Duct Sealing Services in Portland and Nearby in Oregon
Duct sealing improves heating and cooling efficiency to save money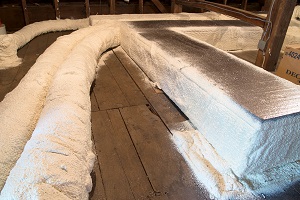 Duct sealing eliminates air leakage in ducts, improving the efficiency of your HVAC system.
Your ductwork is an essential part of your home's energy efficiency and comfort. Due to joints, screw holes, and other gaps, ductwork is inherently leaky and inefficient. Air loss from your ducts makes your HVAC system less efficient, costing you money and making your home uncomfortable.
John's Waterproofing can solve these problems in your home with our attic duct sealing services. Our duct sealing methods create an airtight barrier around your ductwork, preventing air loss and helping your system run more efficiently. If you're interested in duct sealing for your attic, call us today at 1-844-268-0589 or click below! We offer free estimates on all our work in Portland, Eugene, Salem, Beaverton OR, Vancouver WA and the surrounding areas.
Ductwork has a significant impact on energy efficiency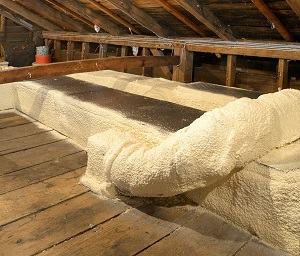 Spray foam duct sealing air seals and insulates in one step, providing maximum efficiency.
Your home's energy efficiency, comfort, and heating and cooling expenses are all affected by the performance of your ductwork. When your ducts are operating with less than maximum air flow, your heating or cooling system needs to run longer to get your home to the right temperature. This naturally wastes energy and money while also forcing you to wait for a comfortable temperature in the home.
At John's Waterproofing, we offer one method of duct sealing:
Spray foam: Spray foam provides duct sealing and insulation in one step. The entire duct system is sprayed to completely seal any and all leaks. Once installed, the spray foam insulation will also keep your ducts at a more consistent temperature, which means the air you pay to heat and cool will maintain the right temperature as it moves through your ducts.
For best results, we always recommend homeowners pair duct sealing with duct insulation. Together, these solutions maximize the effectiveness of your duct system and will help save you money on heating and cooling bills.
Get effective duct sealing services for your attic
If you have problems with expensive heating and cooling bills or uncomfortable rooms, your ductwork may be to blame. John's Waterproofing can provide you with a complete evaluation of your attic ductwork and recommend the right duct sealing services for your needs.
Call us today at 1-844-268-0589 or contact us online to get started on duct sealing for your attic with a free estimate! We offer duct sealing and all our attic insulation services in Portland, Eugene, Salem, Beaverton OR, Vancouver WA, Gresham, Lake Oswego, Hillsboro, Bend, Springfield, Corvallis, Albany OR, Longview WA and throughout the surrounding areas.
Looking for a price? Get a no cost, no obligation free estimate.