Dry Rot Damage Prevention in Portland, Vancouver & Nearby Areas
Proven solutions to prevent dry rot in your basement or crawl space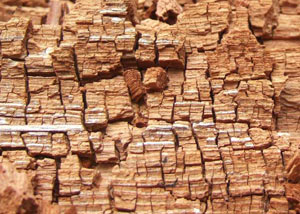 Dry rot damage is often mistaken as termite damage, due to the appearance of the damaged wood.
Dry rot, also known as brown rot, is the decay of wood caused by certain fungi. Dry rot is caused by too much moisture in contact with wood. Basements and crawl spaces are prone to moisture, leaks, and humidity, putting them at risk for dry rot damage and other wood-decaying fungi.
John's Waterproofing specializes in keeping basements and crawl spaces dry. We can design a solution for your home to prevent dry rot while also preventing mold and musty odors. Call us at 1-844-268-0589 or click below to schedule your free inspection and estimate today!
What does dry rot look like?
Wood affected by dry rot typically looks darker and has a crumbly appearance, with cracks that form cube-like shapes in the wood. The wood eventually becomes brittle and can even turn to dust. Dry rot is able to transfer water from wet areas to dry areas, allowing fungus to grow in dry wood.
How to prevent dry rot
The best way to prevent dry rot is with proper ventilation since dry rot fungi thrive in a humid environment. If you had recent water damage in your home or you notice any leaks, it's important to repair them as quickly as possible to prevent excess moisture. Running a dehumidifier can help in high humidity or after cleaning up water.
Your homeowner's insurance likely won't cover dry rot damage unless it's the result of a covered loss, such as basement flooding from a burst pipe. Taking measures to prevent dry rot from developing in the first place can save you from expensive repairs.
Our company offers solutions to eliminate the risk of dry rot damage and mold damage in basements and crawl spaces. We have the products and expertise to make sure your home's below-grade space is properly ventilated, sealed and waterproofed.
We offer a variety of basement waterproofing and crawl space repair solutions, including:
Sump pumps and drainage systems
Self-draining dehumidifiers
Crawl space vapor barriers and encapsulation
Crawl space vent covers and doors
Basement wall panels and flooring
When you contact John's Waterproofing, you can expect a qualified professional to come out to your home for a complete inspection and consultation, which includes a free written estimate detailing all costs. Contact us today!
We are your expert for dry rot prevention and complete basement waterproofing and crawl space repair in Portland, Eugene, Salem, Beaverton OR, Vancouver WA and surrounding areas.
Looking for a price? Get a no cost, no obligation free estimate.