Home
»
Basement Waterproofing
Basement Waterproofing in Greater Portland
If your basement is wet, cracked, or smells musty – we can help
As a waterproofing company in business since 1974, John's Waterproofing has experience helping generations of homeowners solve and prevent basement moisture and flooding issues. We have been recognized not only by our satisfied customers but also by organizations like the Better Business Bureau over the years for our hard work and success!
As the area's authorized dealer, we use patented waterproofing products that have successfully repaired hundreds of wet basements in Vancouver and Greater Portland, as well as the US Court House in Eugene and the President's Mansion at Linfield College.
Worried about water and its negative effects in your basement? Let John's Waterproofing perform a free estimate and show you know how to keep your home safe and dry. Call or click below to schedule your estimate today!
Signs of a basement waterproofing problem
Your damp or wet basement can cause more than just a headache; these issues can create bigger problems like mold, mildew, rot, structural damage, and a variety of health problems. If you've noticed any of the symptoms below, you might have a basement water problem.
Wet or damp basement floor
Leaking or damp basement walls
Pooling or standing water
Crystalline deposit on concrete surfaces
Musty odors
Condensation
Sump pump issues
Leaky basement windows
---
Custom, proven solutions for a dry basement
Our complete basement waterproofing system includes all the solutions you need to keep your basement dry, comfortable, and odor-free. We offer many solutions for your home, including sump pumps, basement drainage systems, dehumidifiers, crack repairs, vapor barriers, and more.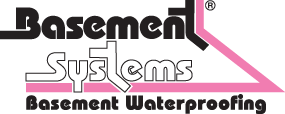 We believe you deserve only the best. That's why we install a patented proven system developed and tested by Basement Systems, Inc., the leader in "All Things Basementy!" For your peace of mind, our basement waterproofing system comes with a Lifetime Warranty that is transferable when you sell your home. We have a team of extensively trained basement repair specialists who can work with you to find the best solution for your home's basement.
Request a free estimate from your local basement expert
If you think you have a basement waterproofing problem, request a professional basement inspection today. We will send one of our certified basement waterproofing specialists out to visit your home and conduct a thorough inspection of your home's basement foundation. Our experts have won multiple awards from Angie's List, the BBB, and other organizations for our service and ethics, so you can be sure you're working with the best when you choose us!
John's Waterproofing fixes leaky basements in Oregon, in areas like Hillsboro, Gresham, Springfield, Corvallis, Albany, Lake Oswego, Bend OR, Longview WA and neighboring towns and cities. Contact us today for a free wet basement repair estimate.
Other companies might try to sell you on inferior basement waterproofing solutions. Our products have been developed, patented, and perfected by Basement Systems®, Inc. -- the world's largest network of basement waterproofing contractors.