Basement Waterproofing System, Installed In Portland, Vancouver, Salem, Eugene and Nearby
Lasting, Warrantied Solutions for Your Wet Basement in Oregon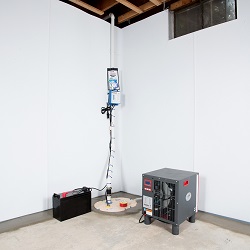 Get the best protection for your basement. A TripleSafe® Sump Pump System (shown here), combined with a SaniDry® dehumidifier, represents the ultimate in basement waterproofing and humidity control.
At John's Waterproofing, we understand that a basement represents a very large section of space in your home. If you live in a one-story home, your basement could be half of your total square footage!
Installation of your waterproofing system should take our installers one, perhaps two, days under normal conditions. Our installers use quality Basement Systems products, which have proven effective for drying basements for more than 20 years.
Six Great Reasons to Choose Us
Quality Products: Basement Systems dealers have been installing their patented, award-winning products for more than 30 years.
Fast Installations: Our system installs quickly, with most projects completed in just one to two days.
Experienced Crews: A crew of experienced workers will arrive to install your system quickly and professionally. Each one is a waterproofing specialist who dries basements every day.
A Cost-Effective System: Our waterproofing system costs about half as much as an exterior waterproofing system and can be customized to fit your budget .
Locally Owned And Operated Contractors: John's Waterproofing is locally owned and operated and has been in business since 1974. We are e a stable, well-established company that's there when you need us!
Free Waterproofing Quotes: We offer free waterproofing quotes to homeowners in our service area. Our quotes come in writing, and there's no obligation!
Investing In A Basement Waterproofing System

Basement finishing is the most cost-effective way you can add living space to your home. Unlike building an addition onto your home, the basement is already there, and so are the pipes, electrical wires, and utilities you need.
According to Remodeling Online's 2017 report, basement finishing raises the value of your home by 70% of the remodeling price. This makes it one of the best home improvement investments you can make.
A home with a wet basement is much more difficult to sell. In fact, studies confirm that a wet basement is one of the most serious "red flags" that deter potential buyers.
Depending on the severity of the problem, waterproofing a basement can restore 10% or more of the home's market value. Combined with our lifetime written warranty, which is transferable to the next owner, our basement waterproofing system will give prospective home buyers confidence that their home is protected.
Our crews of waterproofers are experienced, well-trained professionals who work in basements and crawl spaces every day. They've seen it all and they know just what needs to be done to keep your basement dry all the time!
If you live in Salem, Beaverton, Eugene, Portland OR, Vancouver WA, Longview WA, Hillsboro, Lake Oswego, Gresham, Bend, Corvallis, Albany, Springfield OR, Tigard, Aloha, McMinnville, Lebanon, Forest Grove, Canby, The Dalles, Camas, Troutdale, Astoria, Prineville, Hood River, Sherwood, Wilsonville, Oregon City, Redmond, Keizer or nearby, we're the contractors for you! We offer free basement waterproofing quotes to homeowners within our service area.
Looking for a price? Get a no cost, no obligation free estimate.