Sewer Cleaning Services in Portland, Salem & Throughout Greater Portland
A quick & cost-effective solution for your clogged sewer line
Our sewer cleaning services:
High-pressure clog removal
Video sewer line inspection
Tree root removal
Sewer backup repair
Sewer line hookup, installation & repair
Drain cleaning
If you notice your plumbing lines are draining slowly; if you have had tree roots infiltrate your sewage line, or you live in an older home, you should consider having your sewer line cleaned out to prevent clogs that can cause raw sewage to backup into your home.
Call us at 1-844-268-0589 to request an appointment for sewer cleaning today! John's Waterproofing can clear your clogged sewer line quickly to prevent costly damage and repairs. We provide free estimates and emergency plumbing service in Portland, Eugene, Salem, Beaverton OR, Vancouver WA and surrounding Oregon.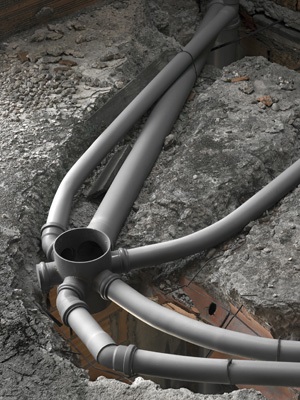 Hidden sewer clogs. Many sewer problems occur in the part of your sewer line that you can't see. A camera can be used to inspect your main sewer line & locate clogs or obstructions.
Signs of a clogged sewer line:
Gurgling noises coming from drains & toilets
Foul odors coming from drains
Water backing up out of drains
Smell of raw sewage outside the home
Multiple plumbing fixtures backing up
What causes a clogged sewer line?
There are several ways your main sewage line can become clogged or obstructed. Drain pipes inside your home can clog with grease, hair, food, and other blockages. Sewer lines and pipes can shift due to expansive soils and cause your sewer line to break. Tree roots can extend into underground sewer lines and cause a blockage that you may not notice until it's too late.
No matter what's causing your sewer line to clog or keep backing up, we can provide a fast solution and peace of mind.
We use the latest techniques to clear your pipes & main sewer line
Using a camera, we can easily look inside your sewage line to locate a clog and inspect the condition of your underground pipes without costly digging. We then use high-pressure jetting to effectively remove debris, including blockages, grease, and tree roots.
Contact us today for fast & affordable sewer cleaning & plumbing
Here at John's Waterproofing, our goal is to provide you with a fast, affordable solution. From our video sewer inspection and several other plumbing services to our free estimates, we can solve all your sewer and drain cleaning needs with minimum hassle.
Call us or fill out our contact form to request a free estimate today! We proudly provide our sewer cleaning services throughout Longview WA, Hillsboro, Lake Oswego, Gresham, Bend, Corvallis, Albany, Springfield OR and surrounding cities and towns in Oregon.
Looking for a price? Get a no cost, no obligation free estimate.