Drainage Matting For Wet, Flooding Crawl Spaces in Greater Portland
Direct water on your flooded crawl space floor to your perimeter drain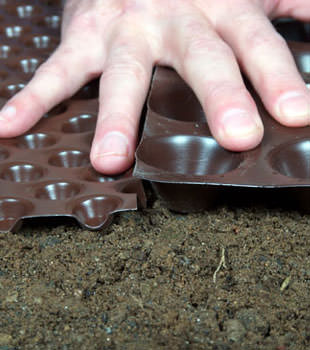 Drainage matting is a smart idea to keep any crawl space dry.
Crawl space liners rest directly on the crawl space floor. If your crawl space is flooding, water can be trapped underneath, never making it to your perimeter drain.
The raised dimples on our CleanSpace® Drainage Matting give the water flooding into your crawl space a channel underneath your crawl space liner. This directs the water flooding your crawl space to your perimeter crawl space drain and sump pump system.
To install drainage matting in your crawl space, trust the professionals at John's Waterproofing to get the job done right. We are fully trained and certified to carry out the work needed and always use the best tools for the job. We offer free estimates in Greater Portland and nearby cities!
Installing CleanSpace® Drainage Matting
A crawl space vapor barrier is an excellent way to keep water and moisture from your crawl space, but it's also important to drain away flooded water that collects underneath. By installing CleanSpace® Drainage Matting, we ensure that water is directed to your drainage system and your crawl space is protected.
CleanSpace® Drainage Matting should not significantly add to the installation time of your crawl space vapor barrier system. When we send our crew to your home, one member will lay the drainage matting while another installs the liner over the top. A CleanSpace® crawl space system usually installs in less than a day.
CleanSpace® Drainage Matting is appropriate to use on crawl space floors of all types, including concrete and dirt surfaces. For areas with extra heavy flooding or unusually rough terrain, our CleanSpace® Drainage Matting XL provides extra durability and larger drain channels to handle the bigger job. This drainage matting is compatible with all our other crawl space products, including our crawl space insulation and crawl space radiant heat barrier.
Call us for a free crawl space drainage quote today
In need of crawl space repairs? We offer a wide range of warrantied products designed specifically for the crawl space. John's Waterproofing services Tigard, Aloha, Lebanon, Keizer, Oregon City, Forest Grove, Canby, The Dalles, Camas, Troutdale, Astoria, Prineville, Hood River, Sherwood, Wilsonville, Redmond, McMinnville and many nearby areas in Oregon - call for a free estimate today!
Looking for a price? Get a no cost, no obligation free estimate.